//RADIO//TECH//LIC-T1
<< radio home

<< index

by disinfoniacs #69 & #1

br>

licenses and call signs
>>>>
tldr
The FCC offers three levels of licenses for amateur radio enthusiasts: Technician, General, and Amateur Extra
You need to pass each level in order to move on to the next
Once you pass the Technician exam, you'll receive a call sign and an "operator/primary station license" which is valid for 10 years and limited to one amateur radio license
Your license will be a unique call sign, consisting of a combination of letters and numbers
You can personalize your identity with a vanity call sign, which you can request after receiving your Technician license
The FCC database is your go-to source for all things related to your license, and you need to appear in it to operate
You have a grace period of two years to renew your license after the 10-year term, and your license can be suspended or revoked if you fail to update your email address with the FCC
You can start your own club with a club station license, which requires at least four members
in depth
Are you ready to take the leap and become an amateur radio operator? The Federal Communications Commission (FCC) offers three levels of licenses for enthusiasts like you: Technician, General, and Amateur Extra. The journey begins with the Technician exam, and you'll need to pass each level in order to move on to the next.
Once you pass your Technician exam, the FCC will grant you a call sign and an "operator/primary station license." This license is your official certification and must appear in the FCC's ULS consolidated licensee database to operate**. It's valid for 10 years, and you are limited to **one** amateur radio license.
After taking the exam, you'll know right away if you passed and you can start operating as soon as your license appears in the FCC's database (a few days typically, but up to a couple of weeks). It's important to note that you can't start operating before your license appears in the database.
Your license will be a unique call sign, which consists of a combination of letters and numbers that you'll use to identify yourself on the air. Your first call sign will likely be a 2-by-3 format, meaning it will have 2 letters, a number, and 3 more letters. For example, KD1XXX is a valid Technician License call sign because it meets the 2 x 3 format.
Once you've been issued your call sign, the fun doesn't stop there. As a licensed amateur radio operator, you have the opportunity to personalize your identity with a vanity call sign. This means that you can select a call that has special meaning to you--initials or nickname perhaps (provided the call is available).
Technicians can also request a vanity call sign in the 1-by-3 format, such as K1XXX.
The rules for vanity call signs are quite flexible, you can use any combination of letters and numbers that you like, as long as it's available. Usually, call signs are assigned by geographic region, but with a vanity call sign, you have the option to choose a call sign from a different number region. Just keep in mind that there are additional fees for vanity call signs.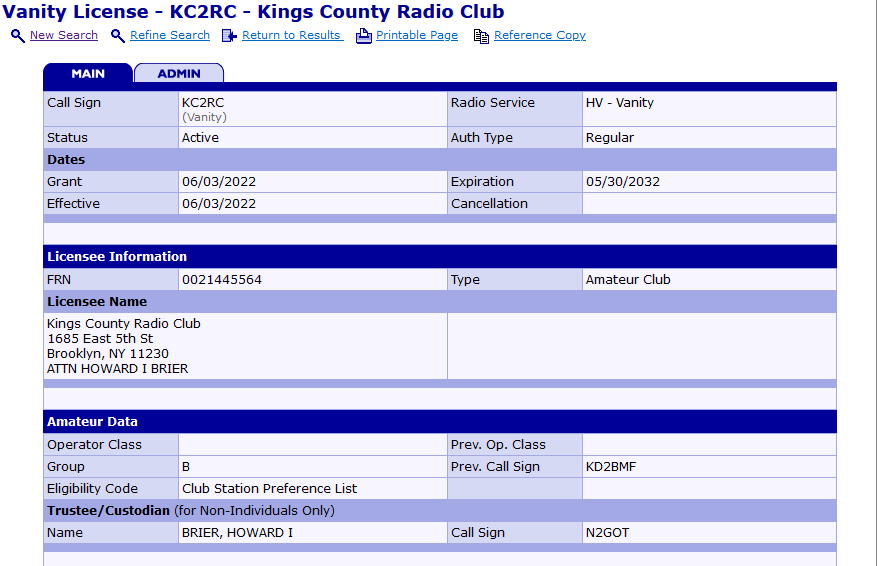 the database
The FCC database is your go-to source for all things related to your license. It's available online, so you can check it at any time, and serves as the ultimate authority on the validity of your license. If your license is valid in the database, you're good to go. If it's not, you cannot transmit.
You don't have to think about renewals and updates right away, but it's good to know how it works. Once your 10-year term is up, you'll have a grace period of two years to renew your license. However, if your license shows as expired in the database, transmitting is not allowed until the license is renewed. If you're a Technician and you miss the grace period, you'll have to retake the exam.
The FCC also requires that while you're licensed, you keep your email address updated in the database. Failing to provide and maintain a correct email address with the FCC can result in your license being suspended or revoked.
If you have a few friends you operate with, you can start your own club. A club station license requires at least four members.
<< previous lesson | next lesson >>
---
<< radio home
<< index