//RADIO//TECH//Q-T2
<< radio home

<< index

by disinfoniacs #69 & #1

br>

q
>>>>
tldr
Q codes serve as a standard communication language in Ham Radio
Composed of 3 letters starting with "Q"
Ham radio licensing exam covers a few commonly used Q codes:

QRM refers to receiving Interference from other stations (manmade interference)
QRN refers to static (natural interference, like lightning)
QSY means change frequency and is used to switch to a different frequency.
in depth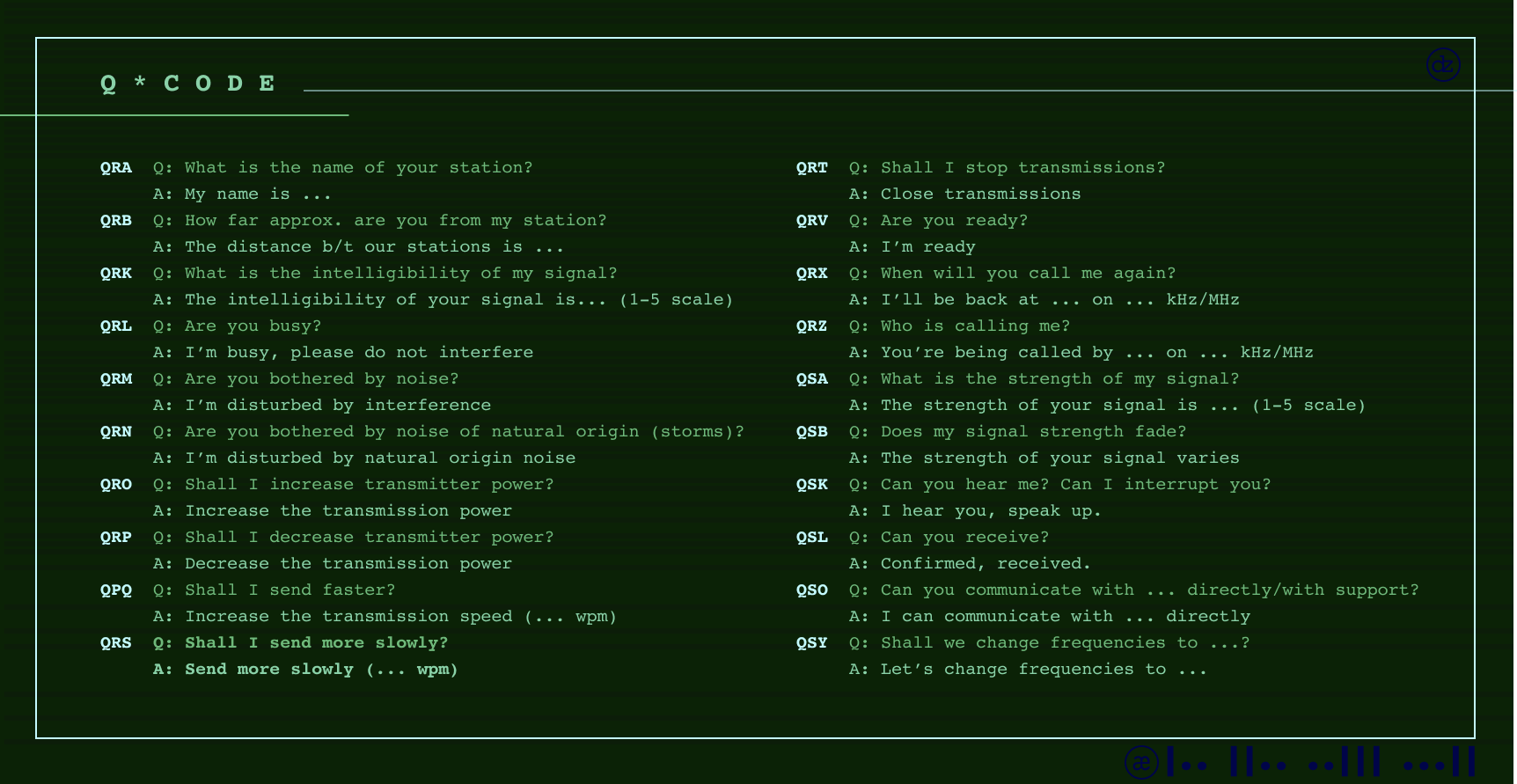 Q codes serve as a standardized communication code, consisting of three letters starting with the letter "Q". There are many Q codes, and a comprehensive overview of them can be found on various ham resources such as above (here is a more detailed one). Don't try and immediately memorize these, they can be confusing. Consider printing out a cheat sheet to be able to quickly reference them.
The ham radio licensing exam tests on a few of the commonly used Q codes.
Two specific Q codes deal with the issue of interference:
QRM stands for "Receiving Interference" and refers to interference from other stations. The letter "M" in QRM stands for manmade interference.
QRN stands for "Static" and refers to natural interference or noise, such as lightning. The letter "N" in QRN represents natural interference.
Another useful Q code is QSY, which stands for "Change Frequency." This code is used to communicate that you are switching to a different frequency. You can remember this code because the word "frequency" ends with the letter "Y".
<< previous lesson | next lesson >>
---
<< radio home
<< index